The EA-6B was "born into battle" in 1972 with the Scorpions of VAQ-132 making their first deployment directly into the Vietnam War.
Over the following five decades the Prowler carried out combat operations throughout the world, including Africa, Asia, Europe and the Caribbean. During Operation Desert Storm seven Navy and Marine EA-6B squadrons supported strikes throughout Iraq and Kuwait, helping subdue the enemy's vaunted air defense system. The aircraft was subsequently designated a "Low Density/High Demand" asset by the Joint Chiefs of Staff and took over all U.S. Department of Defense tactical electronic warfare missions from 1996 as the Air Force retired its EF-111A Raven.
Since then practically every deployment by Navy and Marine Prowler squadrons have involved time in combat, including the last USN cruise, where VAQ-134 flew jamming missions as part of Operation Inherent Resolve over Iraq/Syria in 2014, a role the Marines kept up through 2019.
The EA-6B's mission is to use its ALQ-99 pods to project heavy electromagnetic radiation into enemy communications and radar systems; to "jam" them so that the amount of interference and confusion they generated made their gear unusable. In that role the Prowler has proven remarkably capable.
In 1988 the aircraft added the AGM-88 High Speed Anti-Radiation Missile (HARM) to its repertoire; adding a "Hard-Kill" option to its bag of tricks. With its wide-band receiver system and highly trained crew the Prowler proved to be among the finest ARM shooters in the world, even more so after retirement of the Air Force's F-4G Wild Weasel.
The Marines' superb VMAQ community flew "in harm's way" with their Prowlers right up to the end, participating in action over Syria and Iraq during their final 2018 deployment, with VMAQ-2.
By makings its first and last deployments in battle, the Prowler joined a short list of Naval aircraft with that distinction. No other did it over a longer period however and, remarkably, no Prowlers were ever lost due to enemy action. The EA-6B surely dominated its combat domain in a fashion that few other types can claim.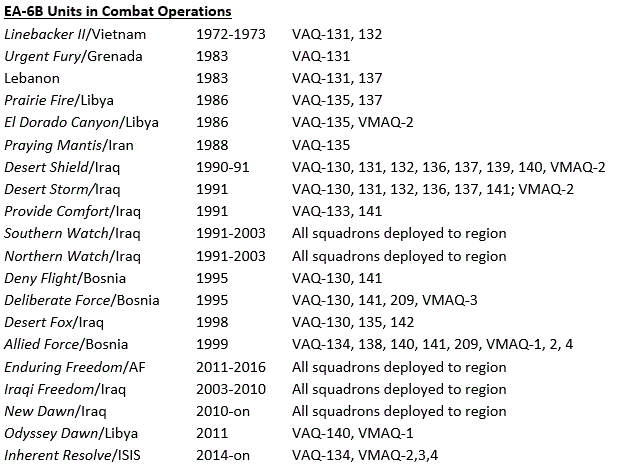 In addition, many other squadrons (particularly VAQ-129) provided personnel to many of these operations. They are not listed since their squadron itself did not officially deploy.
See an error? Have a recommendation? Please contact the Historian, Rick Morgan